DISTRIBUTION

CONTACT
For enquiries regarding the documentary please email the producers at:
CREDITS
Directed & edited by Maarten van Rouveroy Producers: Maarten van Rouveroy, Tom Lowe, Elaine Hill Camera: Maarten van Rouveroy, Kieron Bryan, Stephen Nugent, Igor Kim, Vladislav Zalevskiy, Ilia Butakov, Tom Lowe, Georgy Timofeev, Stephen Rychetnik, Matt Kemp, Antony Butts, Hernan Perez Aguirre, Anton Zhelonkin, Frits Meulenveld, Thomas Reinecke, Jasper Korff Design & animation: Elaine Hill Re-recording mixer: Tom Bijnen Grading & online edit: Laurent Fluttert Featuring: Roman Dolgov, Christy Ferguson, Richard Harvey, Frank Hewetson, Denis Krivosheev, Dima Litvinov, Kumi Naidoo, Faiza Oulahsen, Paul Ruzycki, Sini Saarlela, Rick Steiner, Peter Willcox. Special thanks to: The Arctic 30, Ana Paula Maciel, Ben Ayliffe, Daniel Bird, Carin Bazuin, Tulio Campregher, Maria Favorskaya, Gaynor Fawkes, Sol Gosetti, Matt Kemp,Helena Meresman, Edward Nazarski, André Nollkaemper, Joost Oskamp, Andreas Østhagen, Markus Power, Isabelle Philippe, Daniel Rizzotti, Fabien Rondal, Elena Sakirko, Patric Salize, Sune Scheller, Daniel Simons, Ben Stewart, Thomas Stocker, Mark Stucke, Sonka Terfehr, James Turner, Alexander Urzhanov, Eef Verkade
DETAILS
Playtime: 53 minutes

Languages currently available:
English

Subtitles currently available:
German
French
Spanish
Dutch
Russian
Czech
Mandarin
Italian

© 2014 Greenpeace International



Black Ice is distributed by Journeyman Pictures. Full release and interactive version will be available online later this year.
Black Ice - the story of the Arctic 30
When the Greenpeace ship Arctic Sunrise set sailto protest the first ever oil drilling in the Arctic Ocean, none of the people on board could have known what was coming.
Seized at gunpoint by Russian special forces, the 'Arctic 30' were thrust into headlines all over the world, facing up to 15 years in prison and finding themselves at the centre of a bitter international dispute.
A similar protest the previous year at the same oil platform had seen the Greenpeace activists walk away untouched. This time, the events that unfolded sent shockwaves across the world.
With the eyes of the world upon them, Russia charged the crew, from 18 different countries, with piracy and hooliganism in the most ruthless response from a national government against an NGO in a quarter of a century.
Their imprisonment, which saw worldwide media cast the Arctic 30 in the same mould as political prisoners like Pussy Riot and Mikhail Khodorkovsky, lasted months. However, their resolve to try and stop oil drilling in the Arctic was never broken.
Complete with never-before-seen footage and behind-the-scenes access, 'Black Ice' tells the story of the Arctic 30 from the moment they set sail to protest at the controversial Prirazlomnaya oil platform, to their arrest, imprisonment… and what happened next.
IMAGES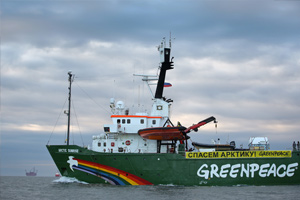 17 September 2013: The Arctic Sunrise with Prirazlomnaya oil platform in the distance. © Denis Sinyakov / Greenpeace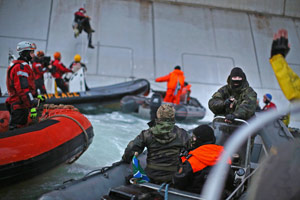 18 September 2013: The Russian coastguard and Greenpeace at the Prirazlomnaya oil platform. © Denis Sinyakov / Greenpeace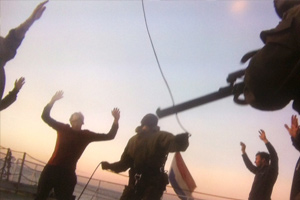 19 September 2014: Russian special forces abseiling onto the Arctic Sunrise and seizing the ship at gunpoint. © Greenpeace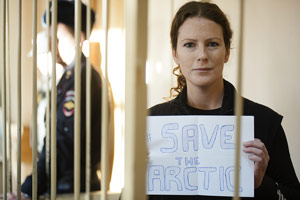 18 November 2013: Activist Ana Paula Alminhana Maciel Detention Hearing in St. Petersburg. © Vladimir Baryshev / Greenpeace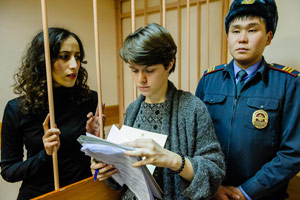 20 November 2013: Faiza Oulahsen Detention Hearing in St. Petersburg. © Dmitri Sharomov / Greenpeace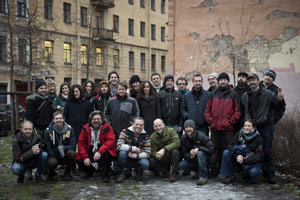 03 December 2013: Group shot of 26 of the Arctic 30 in St.Petersburg after their release on bail. © Denis Sinyakov / Greenpeace
SUGGESTED LINKS TO THE STORY
Journeyman Pictures: Distributers for the Black Ice documentary.
Greenpeace: Listing of events as they occured.
Reuters: Green activists arrested, shots fired at Russian Arctic rig protest.
Washington Post: U.S. Greenpeace captain is jailed in Russia.
RT (Russia Today): Arctic Sunrise case: Russia to boycott intl maritime tribunal over Greenpeace arrests.
BBC: Russia drops piracy charges against Greenpeace group.